Description
We give the best TS-EC1680U-RP price in Dubai. Also we are the top Qnap Enterprise dealers and distributors in Dubai. More than this we give the qnap product support services in Dubai. In addition to this we are the top qnap storage unit suppliers in Dubai. More than this we are the best storage unit distributors in Dubai.
QNAP TS-EC1680U-RP, featuring the easy-to-use QTS operating system, provides a reliable and scalable NAS solution to fulfill data backup, file synchronization and remote access. The TS-EC1680U-RP is 10GbE-ready, delivers exceptional performance, and supports cross-platform file sharing, comprehensive backup solutions, iSCSI and virtualization applications, and many practical business functions, making it the ideal choice for SMBs to secure important business data. It also includes abundant multimedia applications backed by its powerful hardware specifications.
TS-EC1680U-RP price in Dubai
3,500+ MB/s throughput and 390,000+ IOPS
Two internal cache ports and up to 4 SSDs for caching
Scalable design, up to 720TB raw capacity
Virtualization-ready, centralized data storage, backup, sharing and disaster recovery
QTS – Simple and efficient
Thanks to QTS's intuitive user interface, system operations of the TS-EC1680U-RP are smooth and handy. Its intelligent desktop allows you to find the desired functions quickly. The functions include ,create desktop shortcuts or group shortcuts. More than this monitor important system information on a real-time basis. Also open multiple application windows to run multiple tasks concurrently, bringing greater working efficiency.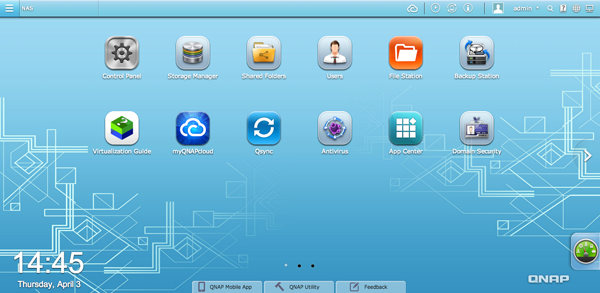 Breakthrough performance
The TS-EC1680U-RP supports 6Gbps hard drives driving over 3,500 MB/s throughput and 390,000 IOPS*. The main features Intel Xeon E3 v3 Quad are Core Processor and 4 GB DDR3 ECC RAM. Also the TS-EC1680U-RP greatly enhances efficiency of CPU. More than this consuming tasks and serves more concurrent tasks at the same time.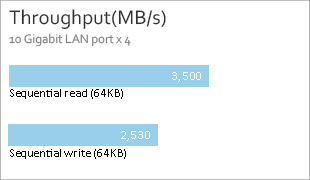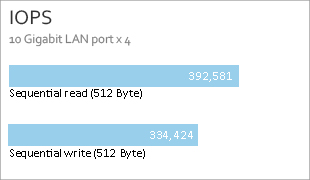 * Tested in QNAP lab. Figures could vary by environments.

Testing Environment:
4 Client PC configurations: Intel(R) Core(TM) i7-2600 CPU, 16GB DDR3 RAM, Windows 7 professional 64-bit. In addition to this provides the Dual-port Intel X520 10GbE Server Adapter, IOMeter sequential read and write.

NAS configurations:
OCZ Vertex4 VTX4-25SAT3-128G SSDs with RAID 5 configuration, QNAP LAN-10G2T-U dual-port 10GBase-T network adapter*2
Internal cache port for IO acceleration
The TS-EC1680U-RP supports two on-board mSATA internal cache ports, and up to 4 SSDs can be used for caching. By installing mSATA flash modules (optional purchase), the IOPS performance of storage volumes can remarkably boost. It is perfect for improving overall workflow of random IOPS demanding applications such as database and virtualization. The internal cache port design reserves the space of hard drive tray for more storage capacity.
*Instead of installing the mSATA in the internal cache port, SSDs are supported to be installed in the hard drive tray.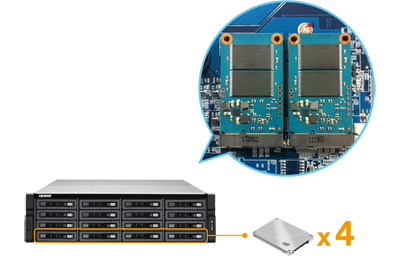 Removable motherboard drawer for easy maintenance
With the TS-EC1680U-RP's removable motherboard drawer, IT administrators have easier access in upgrading/installing components . The installing components such as RAM, the internal cache and 10GbE adapter. The motherboard itself can be removed. Also the motherboard can be replaced without needing to remove the heavy TS-EC1680U-RP from the rack cabinet. Beyond this  making it especially useful in maintaining the TS-EC1680U-RP in data centers with multiple rack cabinets.
Note: Power-off is necessary before removing the motherboard drawer. It is not hot-pluggable.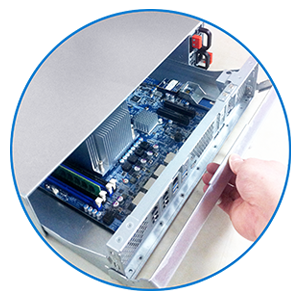 10GbE ready
The TS-EC1680U-RP offers four inbuilt Gigabit Ethernet ports and supports 10 Gigabit high speed network by installing 10GbE network adapter. The 10GbE-reay TS-EC1680U-RP delivers lightening data throughput. It is coupled with the support for large storage capacity. More than this the TS-EC1279U-SAS-RP is perfect for data centers to storage big data and excel in fast data transmission. Beyond this  editing large size videos on-the-fly without transferring the videos between the TS-EC1279U-SAS-RP and desktop computers.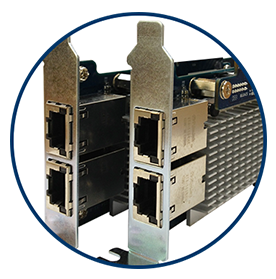 Seamless capacity expansion
The TS-EC1680U-RP supports online capacity expansion by cascading multiple QNAP RAID expansion enclosures . This is to meet the needs of growing business data. With the QNAP scale-up solution, raw storage capacity can be gradually expanded to 700TB. It is especially useful for large data applications, such as video surveillance and data archiving. More than this supports TV broadcast storage to name few.
Save